Copper Country Architects

Louis Piket

by A. K. Hoagland

Buildings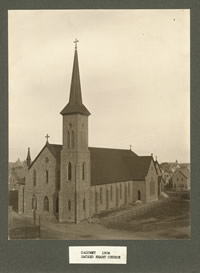 Sacred Heart Church, ca. 1900.
Foster Collection, KNHP Archives.
Sacred Heart Church
1383 Rockland St., Calumet
Built 1897-98
Destroyed by fire 1983
Established in 1868, Sacred Heart Church was the first Catholic church in the Calumet area. Hecla Mining Company leased the land on which the parish built a frame church, measuring 40' x 90', at a cost of $4,000. Beginning in 1890, the Franciscan Fathers of the Province of St. John the Baptist, based in Cincinnati, Ohio, provided the priests (and, most likely, the connection to the Cincinnati architect). With the growth of the parish, a new building was needed. Construction began on the $32,600 church in 1897. The furnishings, frescoing, windows, and heating plant cost another $25,000. The church was dedicated 16 October 1898.2
Although the church appears plain on the outside, it was constructed of "famous Portage Entry sandstone of extra fine grade."3 The church measured 51' x 145' and had a 125'-high steeple at the front corner. Three Gothic-arched entrances adorned the façade, and buttresses separated the windows on the sides. Inside, the nave was very ornate, with elaborate scissor trusses, frescoes, and 800 incandescent lights. The nave, which had a balcony for the chorus above the main entrance, seated about 1,300 parishioners. Behind the main church was a chapel, which measured 80' x 57'. Connected to that, forming an ell, was the rectory.4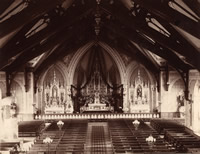 Sacred Heart Church interior, ca. 1900.
Marta Collection, KNHP Archives.
The historic church interior suffered from a modernization completed in time for the church's centennial celebrations in 1968. The church was destroyed by fire in 1983. A new church was completed in 1986.