Copper Country Architects

Charles W. Maass
Maass Brothers
Frederick Maass

by Morgan Davis

Introduction
Charles Maass (1871-1959) was the architect who worked the longest in the Copper Country during its boom years, practicing here from about 1895 until after 1920.
Biography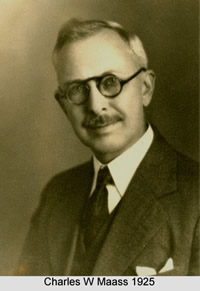 Charles W. Maass, ca. 1925.
Courtesy Family of C. W. Maass.
Charles W. Maass was born in Green Bay, Wisconsin, the oldest of thirteen children. His father had immigrated to Green Bay from Germany In 1862 and later owned a brickyard in Menominee, Michigan.1 Charles graduated from high school and worked for two Menominee architects before establishing his own firm there. He moved to the Copper Country in about 1895. Charles and his wife, Lilian, had two daughters, Frances and Grace. Charles worked as a draftsman for Calumet & Hecla from 1900 to 1909, but also seemed to be designing buildings for other clients as well.2 The 1897-98 and 1899-1900 Polk directories record him as having an architectural firm in partnership with Theodore F. Lohff in Laurium; Maass lived at the same address as the firm, on Amygdaloid Street.
Maass worked for C&H for nine years, but in about 1904 he formed a firm in partnership with his brother, Fred (1881-1959), about whom little is known. The firm's offices were located in the State Savings Bank in Laurium. In 1907 Charles Maass announced in the newspaper that he was leaving, probably for Milwaukee.3 Whether he actually left is not known, but by 1910, he had rejoined his brother, moved to Houghton, and opened an office in the Citizens National Bank Building. The Maass Brothers had a number of school designs to their credit, including additions to the Trimountain and South Range schools in 19124 and new schools in Dodgeville, Hurontown, and Otter Lake in 1913.5 In 1912 the Maass Brothers were the only firm listed in the Copper Country. In the spring of 1913, Charles announced that he was leaving the Copper Country after eighteen years and moving to Seattle. Fred had recently moved to the Iron Range.6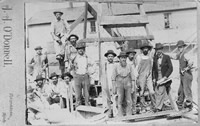 Charles W. Maass (holding roll of drawings),
ca. 1894, probably in Menominee.
Courtesy Family of C. W. Maass.
Charles Maass returned soon thereafter, however. In 1914 he designed a town hall for Arvon Township in Skanee.7 Fred, meanwhile, designed a remodeling of the Laurium Village Hall that summer. In 1915 Charles applied for architectural registration in Michigan.8 In the 1916-17 directory, the Maass Brothers were the only architects listed, but they were no longer a partnership; they were listed separately. Both of them were living in Houghton. They were listed as "Maass Brothers" on the drawings for the South Range Grade School in 1918, though.9 The 1920 census listed Charles Maass as living in Houghton, but he apparently moved to Detroit soon thereafter, because 1921 drawings for the L'Anse Township School Gymnasium bear his name and an office in Detroit.10 Plans for a house for Michael Seeley in Detroit, dated 1949 and signed by Charles W. Maass, registered architect with an office in Detroit, are in the MTU Archives, indicating an exceptionally long career.11
In a questionnaire that Maass filled out in 1946, he cited, as representative of his work on buildings that cost less than $300,000, the Masonic Building in Houghton, the OddFellows Block in Houghton, and the Thomas Hoatson Residence in Laurium. For a more expensive building, he cited the Marinette County Courthouse, Marinette, Wisconsin (1941-42).12