Copper Country Architects

Charles Archibald Pearce

by Katie Torrey

Introduction
Charles Archibald Pearce (1870-1944) lived in the Copper Country for only ten years, from 1893-1903. His most important commission was Suomi College's (Finlandia University's) Old Main. He also designed a few buildings in association with other architects as well as some residences.
Biography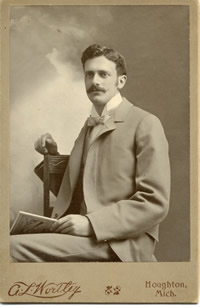 Charles Archibald Pearce, ca 1900.
Private collection.
Pearce was born on May 10, 1870, in Maryland.1 His father was Stephen Theodore Pearce, who was a mining superintendent, and his mother was Emma Jane Bourne, who was originally from Canada. Pearce was the youngest of seven children, two of whom had died in childhood.2
By 1881, before Pearce was even a teenager, his father had died of smallpox, and the family moved to Canada.3 Pearce was educated at the Academy in Sherbrooke, Quebec, and later went to school at Bishops College School in Lennoxville, Quebec, where his family lived at that time.4 It is not known if he had any formal schooling as an architect, but more than likely he worked for a time as an apprentice to an architect before starting his own business.5 By 1893, at the age of 23, he was working as a draftsman/architect for Draughting Services Reg'd of Montreal.6
Sometime around 1893 Pearce moved to the Houghton-Hancock area, and by 1899 had an office in the Scott Block of Hancock where he advertised and worked as an architect. See Table 1 for a summary of directory listings for Pearce. Pearce designed several buildings in the area, including his mother's house in East Hancock. More detailed descriptions of his Houghton County buildings are listed below. In addition to those, he also designed the now-demolished Finnish Apostolic Lutheran Church on Franklin St., near Scott, in Hancock, in 1897.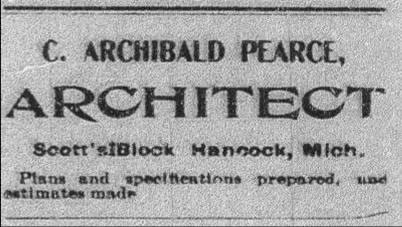 Daily Mining Gazette, 14 March 1900.
His architecture business seems to have been well established when he married Nina Collins, a school teacher from Houghton, on February 19, 1901.7 Their first two children were born in Hancock: Bourne Thornthwaite in 1902 and Enid Doris in 1903.8 Pearce then moved his family to the Montreal area in Quebec, Canada, where they had three more children, Hugh Warren in 1907, Stephen Collins in 1909, and David Archibald in 1920.
While in Montreal, Pearce worked as an "Architectural Draftsman" for the Canadian Pacific Railway (CPR). One of the projects he worked on for CPR was designing the kitchens in the CP hotels Chateau Frontenac in Quebec City, Quebec, and Banff Springs Hotel in Banff, Alberta.9 Pearce also designed a bas relief WWI Memorial for the CPR, which is still hanging in many of the CPR stations and offices, including Union Station in Toronto. Pearce also designed houses when he lived in Montreal, similar in style to his mother's house that he designed in East Hancock. Several were built in Westmount, Montreal.
In his free time Pearce enjoyed playing the banjo and ocarina.10 Eventually he developed Parkinson's disease and had to retired from CPR sometime in the late 1920s or early 1930s due to his health. He died in 1944 in Montreal at the age of 74.11
Houghton Co. directory and census listings for C.A. Pearce
| Year | Age | Place | Occupation | Head of Household | Source |
| --- | --- | --- | --- | --- | --- |
| 1895 | 25 | Franklin Township | - | Emma J. Pearce (mother) | Polk |
| 1897 | 27 | Dollar Bay, Woodside Location | Artist | William S. Pearce (brother) | Polk |
| 1899 | 29 | SE corner of West and 3rd, Hancock | Architect (Office in the Scott Block, Hancock) | Dr. W.A. Burnham | Polk |
| 1900 | 30 | 312 Cooper St., Hancock | Architect | Emma J. Pearce (mother) | census |
| 1901 | 31 | Quincy Addition, East Hancock | Architect (Office in the Scott Block, Hancock) | Himself | Polk |
| 1903 | 33 | Holman Ave., Quincy Addition, East Hancock | Architect (Office in the Scott Block, Hancock) | Himself | Polk |