Copper Country Architects

John B. Sweatt

by Bradley Plummer

Introduction
John B. Sweatt (1846-1925?) was one of the first architects to design buildings in the Copper Country. Originally from Chicago, Sweatt lived in Marquette during the late 19th and early 20th century. He is responsible for some major civic buildings in the Keweenaw constructed in the 1880s.
Biography
John B. Sweatt was born in 1846 in Attala County, Mississippi, to James and Melissa Sweatt. John was one of 9 children, 5 boys and 4 girls. His father, who was born 1806 in South Carolina, was a farmer. His mother was born 1816 in Georgia.1 John was married to Jennie E. Sweatt (maiden name unknown) of New York in 1870. They were married in Chicago, where they lived at the time.2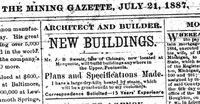 Sweatt's ad.
Daily Mining Gazette, 21 July 1887.
In the 1880s, Sweatt moved to Marquette, Michigan, where he advertised as an architect and contractor/builder. An ad of his found in the July 21, 1887, issue of The Mining Gazette is shown left.
By 1900, Sweatt had moved to Sault Ste. Marie, where he was "manufacturing lumber, etc."3 By 1910, Sweatt moved to Spokane County, Washington. According to the 1910 census, his occupation at this time was a carpenter and house contractor.4 He died between 1920 and 1930 and is buried in Riverside Cemetery, Spokane, Washington.5