Copper Country Architects

Carl E. Nystrom

by David Bandlow

Introduction
Carl E. Nystrom (1868-1944) was a native of Sweden and worked in the Copper Country for only a brief period around the turn of the century. Nystrom spent most of his career working out of Duluth but designed a few buildings in the Calumet-Laurium area.
Biography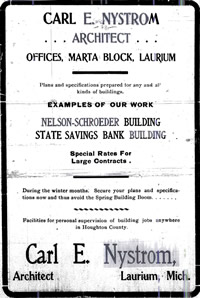 Nystrom's ad.
Hancock Evening Journal, 20 December 1901.
Nystrom was born in Sweden in 1868 and immigrated to the United States sometime between 1885 and 1890.1 Not much is known about the early part of his career except that he worked in northern Minnesota, Wisconsin, and Michigan.2 He most likely did not attend architecture school and learned the trade through apprenticeships. Apparently he practiced architecture in the Keweenaw for only a very brief period around 1900 and 1901. An advertisement in the December 20, 1901, edition of the Hancock Evening Journal indicates that he had his own office in Laurium's Marta Block during this time.3
Nystrom's work was primarily limited to the Calumet and Laurium area, where he designed the Nelson-Schroeder building, the State Savings Bank, and the Blum building. Following his brief stay in the Copper Country, Nystrom moved to Duluth and became a partner in the firm Young and Nystrom from 1902 to 1905. He then partnered with William Bray, an architect originally from New York State who had an early apprenticeship in architecture, from 1905 to 1915. This firm dissolved and Nystrom worked independently in Duluth until his death in 1944 at the age of 76.4
Carl Nystrom had a wife, Elna, and two children, Paul and Emma. Not much is known of what became of Paul except that he moved to Madison, Wisconsin. Emma went to Carleton College in Northfield, Minnesota, and taught Latin, French, and English in the Duluth Public Schools.5 Carl Nystrom left behind several historic buildings in Duluth including the Holland Hotel and the Fidelity building. He was also a member of the Glen Avon Presbyterian Church.6