Copper Country Architects

TMP Associates, Inc.
Tarapata-MacMahon Associates
Peter Tarapata
Charles H. MacMahon
Glen Paulsen

by Brett Schlager

Introduction
Tarapata, MacMahon, & Paulsen Associates (TMP), a Michigan-based firm with a nationwide practice, designed several buildings in the Copper Country.
Biography
TMP Associates Inc.
In 1959 a young Peter Tarapata and Charles H. MacMahon founded an architectural design firm called Tarapata-MacMahon Associates, Inc. In 1961, Tarapata and MacMahon bought the old Tuscarora School to be used as an office. They then added a loft and later a side addition to the building. In 1969 Tarapata-MacMahon merged with Glen Paulsen & Associates forming TMP Associates, Inc. TMP became known for its exceptional design of medical and correctional facilities, as well as corporate and commercial development. TMP used its diverse skills to take the company to Tucson, AZ, in 1983, to complete the 1600-student Desert View High School, receiving six awards, including those from American School & University Magazine and the American Association of School Administrators.1
TMP also earned the 1999 AIA Michigan Firm of the Year Award. At that time the firm was still growing with a staff of 125 professionals.2 TMP has been awarded numerous major design awards and currently maintains its focus on the design of educational facilities. The firm has expanded from its headquarters in Bloomfield Hills, MI, to branch offices in Portage, MI, Detroit, and Columbus, OH. TMP has grown to a staff of over 150 architectural, engineering, and interior design professionals that services clients throughout the United States.
Peter Tarapata
Tarapata was born July 24, 1919, in Detroit. He attended Michigan State University for two years before transferring to the University of Michigan, where he graduated in 1943 with a Bachelor of Architecture Engineering degree and again in 1947 with a Master of Architectural Design (city planning). Between 1943 and 1946, Tarapata served as a First Lieutenant of the US Army Corps of Engineers. Tarapata was first employed by Eberle M. Smith Associates after graduation from U of M and then joined Lynn Smith and Charles H. MachMahon in 1957 to form Smith-Tarapata-MacMahon. Two years later Tarapata and MacMahon formed their own firm and in 1969 joined with Glen Paulsen to form TMP & Associates. Throughout his career Tarapata was bestowed with many awards. These awards included an induction to the Fellowship of American Institute of Architects, Detroit Chapter, in 1985, and the Detroit Chapter FAIA Gold Medal on November 28, 1978.3
Charles H. MacMahon Jr.
MacMahon was born in Fort Seward, Alaska, on June 6, 1918. He graduated from Bronxville High School in Bronxville, New York, in 1936. He attended Bowdoin College for one year before going to the University of Pennsylvania. In 1942, MacMahon graduated from the University of Pennsylvania, College of Architecture & Design with a Bachelor of Architecture. From 1942 to 1946, he served as Lieutenant Sr. Grade in the US Naval Air Transport Service. After his service he registered for practice in Michigan, Ohio, and New York, and in 1947 he moved to Bloomfield Hills, MI. In 1967 he was nominated for Fellowship in the American Institute of Architects. At the time of his death on Friday, February 10, 2006, MacMahon was co-owner of MacMahon, Cajacob Architectural Firm of DeLand, Florida.4
Glen Paulsen
Born in Spooner, Wisconsin, in 1917, Paulsen was the third founder of TMP Associates. Between the years of 1938 and 1942 Paulsen attended the University of Illinois, College of Fine and Applied Arts. In 1947 he graduated Cum Laude from the University of Pennsylvania, School of Fine Arts with a Bachelor of Architecture degree. In 1948 Paulsen earned a Master of Architecture and City Planning degree from the Royal Academy of Arts in Stockholm. Paulsen joined with Tarapata and MacMahon in 1969 and since then has resigned his position on the board at TMP to teach full time at the University of Michigan. In Paulsen's extensive career he has earned many awards, including election to the College of Fellows of The American Institute of Architects, Detroit Chapter, on May 3, 1970. In 1980 he was awarded the Gold Medal of the Detroit Chapter of The American Institute of Architects.5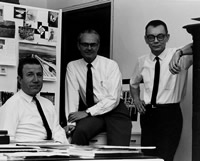 From left to right: Glen Paulsen, Charles H.
MacMahon and Peter Tarapata.
Photo from TMP Associates.
Tarapata, MacMahon and Paulsen
Maurice Allen
As a designer for TMP Associates, Maurice Allen played a major part in the design of two of the TMP buildings in the Copper Country: the Detroit & Northern Savings & Loan Association and Finlandia Hall of Finlandia University.
Maurice Allen was born March 20, 1926, in Lansing, MI. Allen attended Western Michigan University for eight months before transferring to Notre Dame University from 1944-1946 to study naval science and engineering, and he served as an officer on a Navy destroyer in the Pacific Fleet. After WWII ended, Maurice returned home to Michigan and received his Bachelor of Arts in Architecture from the University of Michigan in 1950. Allen's first job was with Smith, Hinchman & Grylls as a draftsperson and designer. In 1951, he went to Saarinen & Associates and worked as an associate in design. From 1951-1962 he worked on projects such as the General Motors Technical Center, Concordia College (Fort Wayne, IN), Yale University's Campus Master Plan, the United States Embassy in Oslo, Norway, and the master plan of Lincoln Center for the Performing Arts in New York City. In 1962, Maurice was hired by Tarapata-MacMahon Associates, Inc. as Principal and Vice President of Design and Planning. He retired from his position in 1993 after serving 31 years in that position.
Throughout his career he traveled all over the world to study architectural techniques, styles, and planning that enhanced his designing capability. These experiences allowed Allen to bring TMP many accolades over the years, including the Detroit Chapter of the American Institute of Architects Gold Medal in 1994, the Michigan Society of Architects, the Engineering Society of Detroit, and the American Industry and Steel Institute Design Award. In 1983 Allen earned the distinction of Fellow of the American Institute of Architects (FAIA), the highest award bestowed upon architects.6