Copper Country Architects

John D. Chubb

by A. K. Hoagland

Buildings
Lake Linden High School
601 Calumet St., Lake Linden
Built 1918
When Lake Linden's parochial school, St. Ann's Academy, ceased teaching the high-school grades in 1915, the influx of new students into the public school pressured the school board to construct a new building. The three-story masonry building in the Collegiate Gothic style was a substantial improvement over its wood-frame predecessor. The basement, frames around the entrances, beltcourses, and other trim are Bedford limestone, while the rest of the building is brick. Two-story windows across the front mark the location of the auditorium; these windows have been unfortunately filled in with glass blocks. Other windows have been partially blocked up.2
Lake Linden High School.
Photograph by A. K. Hoagland, 2009.

Lake Linden High School, architect's perspective drawing.
Courtesy Lake Linden Hubbell Schools.
Washington School
Calumet Ave. and School St., Calumet
Built 1929-303
The previous school on this site burned in a spectacular fire in January 1929. The Central School, built in 1875, had served as a model school building, which included the high school grades until 1898, when a new high school was built next door. After that building was destroyed by fire in 1905, a new Classical Revival-style high school was constructed. The Central School, which had since been renamed Washington School, accommodated lower grades.
The new Washington School building was designed in a Collegiate Gothic style. The three-story brick building has three Tudor-arched entrances on the long front. Large openings with bands of windows have been compromised somewhat with energy-efficient window replacements that include less glass. The grade school faces the high school across an open courtyard. At the far end of the open space, an elementary school was constructed in 1997, making a U-shaped courtyard.
Washington School under construction.
Courtesy Keweenaw National Historical Park.

Washington School.
Photograph by A. K. Hoagland, 2009.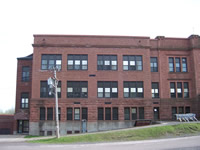 Painesdale High School addition.
Photograph by A. K. Hoagland, 2009.
Painesdale High School Addition
43084 Goodell Street, Painesdale
Built 1934-35
Contractor: Herman Gundlach
With funding from the Civil Works Administration, Painesdale school officials more than doubled the size of their high school. The Civil Works Administrator described the $200,000 project: "Two new three-story wings were built onto the old building forming a U shaped building. Between the two wings was constructed a new gymnasium and swimming pool. The new wings provided new classrooms, study hall, library and dressing rooms for both the girls and boys. All the materials were of the best obtainable."4
The new construction converted the existing gymnasium in the basement of the school into seating for a new gymnasium, which was built east of it. East of that was a new swimming pool—the first in a Copper Country school—with Art Deco tiles. North and south of this new construction were the three-story wings, which contained locker rooms and showers on the first floor, classrooms on the second, and a study room and library on the third.5 The north and south walls of the addition were designed to match the original building, with a concrete basement, Jacobsville sandstone first floor, and cast concrete upper floors that mimicked the original stone. The other, less visible facades of the addition, however, are brick.