Copper Country Architects

Frank W. Hessenmueller

by A. K. Hoagland

Buildings
First National Bank of Laurium
301 Hecla St., Laurium
Built 1907
Hessenmueller designed this bank building, originally planned for two stories, with a third story when its backers decided there was a need in Laurium for a large modern hall for lodge meetings. The estimated construction cost was $45,000.1
The three-story building, with brown ironspot brick walls, has elaborate white glazed terra cotta ornament. The corner entrance is particularly lavish, with segmental-arched tops, fluted square columns, and the words "FIRST NATIONAL BANK" in the frieze. A secondary entrance on Hecla Street, marked "OFFICE ENTRANCE," has an elaborate medallion above the doorway, and a third entrance on Third Street is also trimmed with terra cotta. A large modillioned terra cotta cornice crowns the building. The first story has show windows, indicating retail and banking use, the second story has plain rectangular windows, indicating offices, and the third story has more elaborate round-arched windows, indicating the hall space. The third-story windows are separated by short pilasters with terra cotta bases and capitals.
First National Bank of Laurium.
Photograph by A. K. Hoagland, 2010.

First National Bank of Laurium.
Courtesy Keweenaw National Historical Park.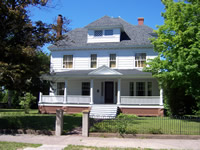 Peter E. Ruppe House.
Photograph by A. K. Hoagland, 2010.
Peter E. Ruppe House
803 Pine St., Calumet
Built 1907
Peter Ruppe, who operated a general merchandise store on Fifth Street brought his sons into his firm. The older, Peter E. Ruppe, who commissioned Hessenmueller to design a house for himself at the corner of 8th and Pine, eventually took over the firm.2 With his wife, Mary, Peter lived in this house with children born in 1909 and 1912; Mary had died by 1920.3
The two-and-a-half story building has a high hipped roof with hip-roofed dormers on each flank. The squarish massing of the house and the modillioned cornice indicate Colonial Revival leanings, but the asymmetry of the fenestration makes the building a little quirkier. The walls are clad with wide aluminum siding and there is a sandstone foundation. A shallow rectilinear bay window on the 8th Street side of the building has triple windows separated by short columns; there is a similar motif on the rear. A one-story porch with Ionic columns stretches across the front; a pediment over the entrance has a sunburst decoration. The house occupies a spacious corner lot with iron fencing across the front, and concrete walls elsewhere.
F. M. Kirby & Co. 5¢ and 10¢ Store
310 5th St., Calumet
Built 1907
Bartholomew Quello, who owned the three-story building next door, acquired this lot for $5,000—a record price for Calumet real estate at the time. The lot held a frame building occupied by a candy kitchen and a Chinese laundry. Quello had that building torn down and a new building designed for F. M. Kirby & Co., a firm in Wilkes-Barre, Pennsylvania, that operated fifty-five 5¢ and 10¢ stores nationwide.4 The newspaper article explaining this said that the new building would both be compatible with the Quello Block (perhaps in its use of brick with sandstone trim) and have the same storefront as all Kirby stores. Between 1912 and 1916 Kirby merged his then-96 stores into the F. W. Woolworth Co., which operated at this site into the 1940s, and in Calumet into the late 1990s.
The first floor of this building has been significantly altered with a wood-shingle pent roof, wood siding, small windows, and a poorly fitting Colonial Revival door surround. Above, however, the original building is apparent. The second floor front has brown ironspot brick and three windows separated by pilasters. The bases of the pilasters are sandstone. The metal cornice with scrolled modillions, as well as a thin egg-and-dart molding, also survive. Historic photographs show two storefronts. The first, for Kirby, had plate-glass show windows, angled toward the center entrance. The Woolworth storefront had three rounded show windows and two entrances.
F. M. Kirby Store.
Photograph by A. K. Hoagland, 2010.

Kirby Store, when it was owned by Woolworth.
Courtesy Keweenaw National Historical Park.
Lake Superior Produce Co. Warehouse
East side of 6th Street between Pine and Spruce, Calumet
Built 1908
Contractor: Charles A. Anderson
When most of the supplies came in by rail, refrigerated warehouses near the railroad tracks were essential. This warehouse was served by a siding from the Copper Range Railroad, whose passenger depot was located just north of the building, and whose freight depot was across the street.5 The Lake Superior Produce Co. also had warehouses near railroad tracks in Houghton and Hancock.
The two-story building had a brown ironspot brick front and a parapeted roofline with broad pediment. The squarish windows on the second floor were neatly trimmed with a contrasting course of brick. The second-floor windows have been covered with plywood, one large entrance on the first floor has been filled in with wood paneling, and the other entrance has been filled with concrete blocks and glass-block windows. Shed additions on both the north and south sides have been clad with standing-seam metal. The original sandstone foundation is just visible. A narrow metal cornice runs below the second-floor windows.
Lake Superior Produce Co. Warehouse.
Photograph by A. K. Hoagland, 2010.

Lake Superior Produce Co. Warehouse.
Courtesy Keweenaw National Historical Park.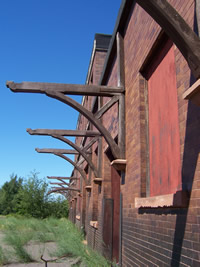 Mineral Range RR Depot, detail showing brackets.
Photograph by A. K. Hoagland, 2010.
Mineral Range Railroad Depot
9th and Oak streets, Calumet
Built 1908
Contractor: Edward Ulseth6
Masonry: Paul P. Roehm7
The Mineral Range Railroad operated a line from Hancock to Calumet by 1872. In 1891 the railroad was acquired by the Duluth, South Shore & Atlantic Railroad, tying it into a nationwide network. In 1908 DSS&A officials visited Calumet to commission this new depot. Hessenmueller traveled to Marquette and other points along the DSS&A line to examine other stations.8 When he returned, he announced that Calumet's new depot would be ten feet longer than Marquette's and considerably larger than Houghton's. The brick and stone building would measure 115 by 35 feet and have a tile roof. The center of the building, 60 by 35 feet, would be two stories. The ground floor would be tiled and platforms on all four sides would be cement. The station would have modern toilet rooms, electric lights, and steam heat.9
The walls built of local brick were faced with dark brown brick from the Massillion Brick Co. of Ohio, with a brown mortar. The window sashes were imported from Oshkosh.10 The main floor contained waiting rooms, ticket offices, and ladies' and gentlemen's toilet rooms, while the second floor had offices for the dispatcher, superintendent, and clerks. The estimated cost was $20,000. The newspaper declared that the station "would be a distinct ornament to Calumet, standing, as it does, as the gateway to one of the busiest little cities in the state."11
Today the depot is in sad shape, with its windows boarded up, its wide overhanging roof removed, and weeds growing around its foundation. Still, much original fabric remains, include most of the brackets that supported the roof, which were supported on sandstone bases. The sandstone window sills and a sill course around the building survive and the brick walls appear to be in good condition. The roof has been recently tarpapered.
Mineral Range RR Depot.
Photograph by A. K. Hoagland, 2010.

Mineral Range RR Depot, postcard view.
Courtesy Keweenaw National Historical Park.
St. Anne's Parsonage
25719 5th Street, Calumet
Built 1909
A French Canadian congregation built St. Anne's Roman Catholic Church in 1900 at the corner of 5th and Scott streets. In 1909, the congregation replaced the pre-existing parsonage next door on Scott Street with this large brick building.12 Hessenmueller employed a Tudor Revival style, probably in an effort to make it compatible with the Gothic Revival church. The two-and-a-half-story building had prominent cross gables trimmed with stone. Window hoods and decorative lights in the windows are additional stylistic references. A large wooden porch with a Gothic-arched entrance and trefoil decorations between the columns adorned the front.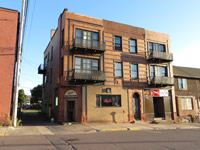 Tambellini Block.
Photograph by A. K. Hoagland, 2015.
Tambellini Block (Luigiís)
508-10 Portland St., Calumet
Built 1909
John Tambellini had this building constructed for his saloon, with apartments above.13 The three-story building is faced with an orange-ish brick, trimmed in a grid pattern with a dark purple brick. There are three entrances on the front: a canted entrance at the alley; a center doorway that provides access to the upper floors; and a storefront entrance on the west end. Large windows at the second and third floors have French doors leading onto iron balconies, which are supported by scrolled iron brackets. Some original material has been replaced with red brick at the top of the center bay, and yellow brick in two of the entrances.