Copper Country Architects

John B. Sutcliffe

by Matt Johnson

Buildings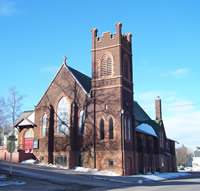 Trinity Episcopal Church.
Photograph by A. K. Hoagland, 2007.
Trinity Episcopal Church
205 E. Montezuma St., Houghton
Built 1906-10
Addition: Hitch, Inc., 2000
In 1860 a group of local businessmen formed an Anglican parish. They constructed a church in Hancock and named it Trinity Church. The church building was then relocated to Houghton where it served for several decades. By the early 20th century, the congregation had grown considerably and decided to replace its frame building. The congregation contacted John B. Sutcliffe.4
Sutcliffe designed the church in a Gothic revival style. It has a square belltower, topped with crenellations, at the front corner. The prominent rough-faced Jacobsville sandstone foundation gives way to dark brick walls, trimmed with red sandstone. The windows have pointed arches.
The church gained a new entrance in 1985 and a 6800-square-foot annex in 2000.