Copper Country Architects

John B. Sweatt

by Bradley Plummer

Buildings
Red Jacket Village Hall (Calumet Opera House and Village Hall)
340 6th Street, Calumet
Built 1885-1886
Contractor: Jesse Butler
Altered: 1900, Charles K. Shand, architect
The Red Jacket Village Hall was originally designed in 1885 by Sweatt and built for $14,272 in 1886. The land was leased to the village by the Calumet & Hecla Mining Company. The two-story, brick and brown Marquette sandstone structure was located on the southeast corner of 6th and Elm streets. It had a projecting tower with an open belfry on the center of its 6th St. front. The first floor contained the village clerk's office, council chambers, fire hall, and jail. The second floor housed a public hall.6
Around 1900, major alterations and an addition were constructed to create the Calumet Theater that exists today. The original exterior was modified to accord with that of the large opera house addition on the south. These modifications were done by Charles K. Shand.7 The fire department moved to a new fire hall across the street, also designed by Shand.
First National Bank
5th street, Calumet
Built 1886
Demolished
The First National Bank of Calumet was designed and built by J. B. Sweatt in 1886. The two-story, six-bay building originally measured 34' x 57'. The front façade was of variegated sandstone, which was obtained from Portage Entry quarries and was laid in broken ashlar with a rock face, and the side walls were brick.8 The first-floor windows were round-arched, while the second-floor windows were segmental-arched. There was a modillioned, parapeted cornice.
Keweenaw County Sheriff's Residence and Jail
4th Street, Eagle River
Built 1886
This structure was designed by Sweatt, though its appearance has since changed. Originally it was a two-and-one-half-story rectangular structure with clapboard walls and a steep-pitch, hip-roof. The rear of the structure, the jail, was constructed of coursed rubble stone. Early photographs also show an open porch across the front of the Sheriff's Residence. The corner pilasters, an entrance vestibule with Georgian Revival detail, and white paint were applied in 1925.9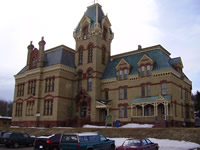 Houghton County Courthouse.
Photograph by Bradley Plummer, 2006.
Houghton County Courthouse
401 E. Houghton Ave., Houghton
Built 1886-1887
As one of the more distinctive courthouses built in late 19th-century Michigan, the Houghton County Courthouse reflects the prosperity brought to the area at the time due to the copper boom. The polychromatic, 2 ½-story building was influenced by the Second Empire, Ruskinian Gothic, and Italianate styles.10 The courthouse was built at a cost of $75,568 and contained the jail and sheriff's quarters.
On the exterior, the walls are constructed of cream-colored Milwaukee brick trimmed with local red sandstone. The curbed mansard roofs were clad with Keweenaw copper. There is a striking central four-story tower which serves as the visual center point of the L-plan structure. Windows are arranged singly or in groups of twos or threes under red sandstone lintels, connected by two red sandstone bands which encircle the building at both the first and second stories. The interior is decorated with rich wood, stone fireplaces, and ornamental plaster. The floor consists of red, brown, and light yellowish brown tiles. A carved oak staircase joins the floors.11
The cornerstone of the courthouse was laid on July 24, 1886, and the building was dedicated on July 28, 1887.12 By 1961 the building had deteriorated to the point where the jail was declared hazardous and was condemned. A new jail was constructed in 1963, adjacent to the Courthouse, at a cost of $200,000.