Copper Country Architects

TMP Associates, Inc.
Tarapata-MacMahon Associates
Peter Tarapata
Charles H. MacMahon
Glen Paulsen

by Brett Schlager

Buildings
Buildings by Tarapata-MacMahon Associates
Michigan Technological University, Co-Ed Dormitory and Food Service Complex (McNair Residence Hall)
Michigan Tech Campus, Houghton
Built 1965-1968
Contractor: Herman Gundlach, Inc.
In December 1965, construction of a $1.6 million co-ed dormitory and food service center began. Construction of the project was to be undertaken in two separate phases. Phase I of the dormitory, on the west end, was to hold 300 students, two per room, and provide food service for 600 students.7 The first phase of the residence hall stands three stories and includes study rooms, staff offices, a staff conference room, and a lounge area. The food service area is two stories and contains a reception area, storage and equipment areas, staff rooms and offices on the first floor. The second floor is where the kitchen facilities are located and where dining takes place.8 Construction of Phase II of the residence hall began in June 1967. Phase II, on the east, was a unit to house 300 students in a six-story high-rise building adjacent and connected to Phase I. The building was officially completed in November 1968.9
The dormitory has a spacious, comfortable style and a view of the Keweenaw Waterway that can be seen from any of the large windows. The interior is arranged without long straight hallways, allegedly to discourage rioting, which was a concern for campus authorities at the time, but more likely to break the monotony. The dormitory includes lounge and recreation areas, carpeted flooring, laundry facilities, student cooking facilities, and elevators. The cooking areas are equipped with tables and chairs, a range area and cabinets for storage. The lounge areas have a comfortable home-like setting with couches, recliners, a fireplace, and large windows for lighting.10 With the combination of the flat roof and the bands of windows the building has horizontal massing.
North façade of East McNair Hall, cafeteria building to the right which is attached to West McNair.
Photograph by Brett Schlager, 2006.

North façade of McNair Food Services building, on right is the causeway to West McNair.
Photograph by Brett Schlager, 2006.

North façade of West McNair Hall.
Photograph by Brett Schlager, 2006.
Michigan Technological University, Daniell Heights Addition
Michigan Tech Campus, Woodmar Dr., Houghton
Built 1965
Contractor: Mattila Contracting, Inc.
In 1965, a second phase was added to Daniell Heights, just east of the original apartment buildings.11 The original portion of Daniell Heights, built in 1960, had been designed by Minoru Yamasaki. The buildings were once again two stories, and they were built primarily in groups of eight units. This addition consisted of 98 apartments, including 42 one-bedroom apartments, 50 two-bedroom units, and 6 three-bedroom units. This addition cost approximately $1.2 million, and is currently known as the Upper Heights.12
Daniell Heights.
Photograph by A. K. Hoagland, 2007.
Buildings by TMP Associates, Inc.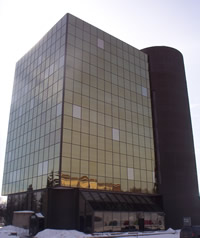 D & N Bank.
Photograph by Brett Schlager, 2006.
Detroit & Northern Savings and Loan Association (Republic Bank, Citizens Bank)
400 Quincy Street, Hancock
Built 1972
Contractor: Herman Gundlach, Inc.
Founded in Hancock as the Northern Michigan Building & Loan Association, Detroit & Northern Savings and Loan Association has served as a major financial establishment in Northern Michigan for over 100 years, and in both Northern and Lower Michigan for over 80 years. Recently D&N Bank became Republic Bank and even more recently, Citizens Bank.
Founded by Charles D. Hanchette, Northern Michigan Building & Loan Association had its first headquarters in the law offices of Dunstan & Hanchette. In 1902, Northern Michigan Building & Loan Association found its second home at the Scott Hotel, 101 Quincy Street, Hancock. The official name "Detroit & Northern Michigan Building and Loan Association" was adopted in 1914 when the Detroit office was opened. In 1939 D&N moved to 200 Quincy Street, Hancock. In 1950 the official name "Detroit & Northern Savings & Loan Association," was adopted.13 The organization expanded again in 1959 at the same location.
The nine-story building at 400 Quincy St. was built in 1972 by General Contractor Herman Gundlach, Inc.14 The building stretches 135 feet high and consists of 54,600 square feet of reflective glass and a cylindrical section made of 17,000 pounds of copper laminated to steel, forming a landmark in the Upper Peninsula.15 D&N contains more than 1000 lighting fixtures, 36 ½ miles of electrical wiring, 1,000 square feet of slate flooring, 1,300 square feet of ceramic tile, 1,500 square feet of vinyl tile, and 28,800 square feet of carpeting.16 This building, which uses native materials such as copper on the circular tower and native wood throughout the interior, is the only high-rise building in Hancock.
D&N originally occupied the entire building, but its presence in the Copper Country has shrunk though reorganization, and the building is currently used by Citizens Bank, the Michigan Tech Fund, Otis Elevator, and Denver Hardwoods.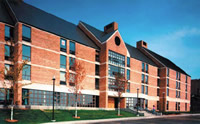 South façade of Finlandia Hall.
Photograph from TMP Associates.
Suomi College (Finlandia University), Finlandia Hall
Finlandia University Campus, Hancock
Built 1983-1984
Contractor: Herman Gundlach, Inc.
Finlandia Hall is a four-story, 192-room, co-ed student dormitory that is home to 184 students.17 Finlandia Hall was completed and ready for occupation in September of 1984 after a $3.5 million loan from the Federal Department of Education.18
The building's façade faces south and is said to have a "domestic character" that resembles the local homes surrounding it. The hall is built on a steep hill and has a steeply pitched roof and division of four staggered sections of red brick trimmed with white belt course.19 Finlandia Hall made it possible to consolidate the entire student housing, which was previously scattered across campus, into one hall. The hall has separate study areas and comfortable living spaces, making it easier for students on campus to enjoy college life.20 The architectural design and materials used help to incorporate this new building with the historic campus surroundings.
TMP Associates won two awards for the design of Finlandia Hall: the American Institute of Architects Detroit Chapter/Honor Award in 1985, and the Masonry Institute of Michigan & Michigan Society of Architects/Michigan Award for Excellence in Masonry Design.21