Copper Country Architects

A. F. Wasielewski

by A. K. Hoagland

Buildings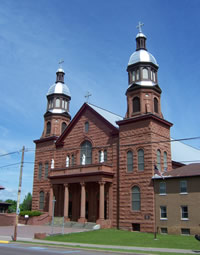 St. Joseph's Church.
Photograph by A. K. Hoagland, 2007.
St. Joseph's Church
701 Calumet St., Lake Linden
Completed 1912
Contractor: A. F. Wasielewski
Charlton, Gilbert & Demar, with C. Archibald Pearce as Associate Architect, originally designed this building, which would have faced Front Street. Although construction was begun in 1901, lack of funding delayed the process. In 1905 a young priest named Napoleon Joseph Raymond was brought in to serve this French Canadian congregation. He stayed until 1963. Fr. Raymond retired the debt of $23,000 that the congregation was carrying and then, when he had $19,000 in the building fund, resumed construction on the church.3
It is unclear who was responsible for the decision to change the front of the partially built church from Front Street to Calumet Street. The decision divided the church, however; 148 members of the congregation hired a lawyer to prevent the change.4 Nonetheless, architect A. F. Wasielewski was brought in to redesign the building in 1912 and see it through to completion. The church was dedicated on December 8, 1912. The total cost of the church was $80,000; the congregation soon retired its remaining debt of $24,000.5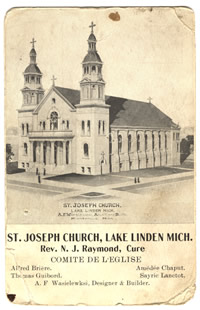 St. Joseph's Church.
Courtesy of Denise Vencato.
In its current configuration, the church has two towers. Alternating rows of smooth- and rough-faced Jacobsville sandstone give the walls a rustic appearance. A one-story portico of smooth-faced sandstone supports four white statues of saints. When construction resumed in 1912, the new plans were described: "The main auditorium will have a seating capacity of 1,000 and will be 35 feet high. It will be provided with three altars built of scagliola, or imitation marble, after the Waterloo design, and each will be 20 feet high. The floor will be of hardwood and the interior finished in relief plastic [sic] work. There will be sixteen large stained windows."6 At its completion, the newspaper described the church's interior: "The interior of the church, with a seating capacity of 900, which capacity is increased to 1100 by the gallery seating, presents an unobstructed view because of the absence of columns. In Catholic churches these columns support the roof and separate the nave from the side alleys of the church. In this church the extremities of the arches are ornamented in plaster and each will support a chandelier, as yet a missing detail."7 Steel trusses supported the roof. The altar, designed by the Doprato Company of Chicago, and the chancel rail were the gifts of the St. Anne's Society. They cost $4,000.8